Health
The Best Eye Creams for All Ages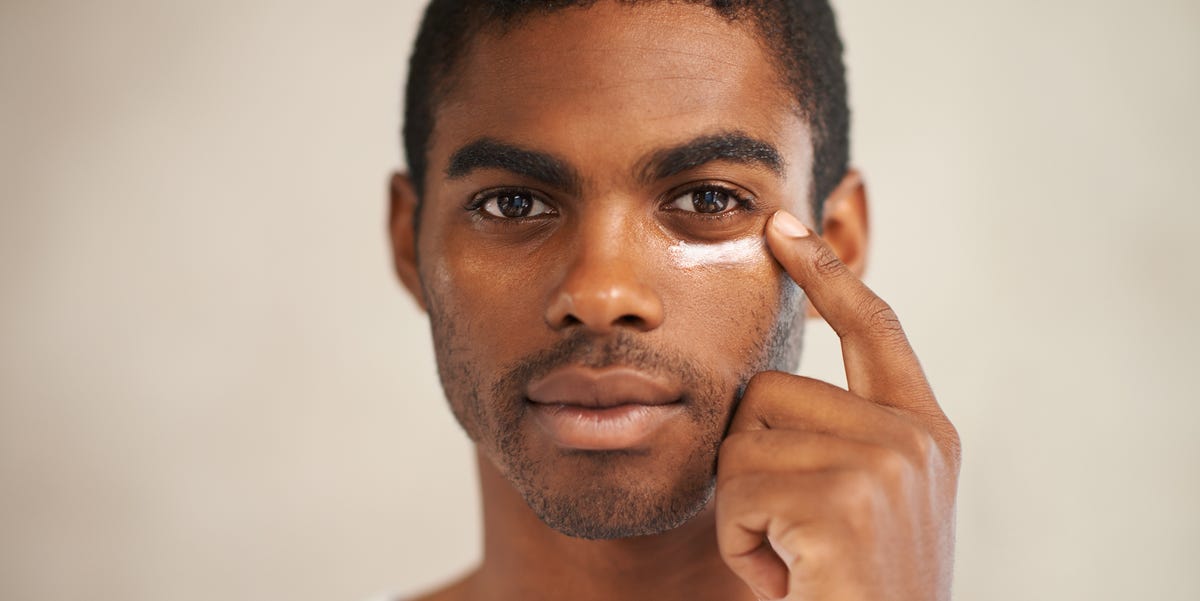 Say you've pulled an all-nighter prepping for a big presentation and you've woken up with dark circles under your eyes that would make a raccoon envious. Or say you've been partying a bit too hard lately and noticed that the bags under your eyes are large enough to require a checked baggage fee. Or say you, like many men, woke up one morning and noticed crinkly lines in the corners of your eyes for the first time. Or maybe it's nothing that specific, just that you noticed the skin around your eyes looks a little sallow or dry or dark. If you've experienced any of these things, congratulations: you are a human man and you could use a little eye cream.
Yes, guys should use eye cream. The first place men typically notice signs of aging—like fine lines and wrinkles—is around their eyes ,but eye creams can help with way more than that. These power-packed products are specifically designed to help with dark circles, dull skin, puffiness, and even those aforementioned wrinkles. Seriously, eye creams actuall work. But knowing which of these eye creams is right for you can be confusing. That's where we come in. These are the 15 best eye creams for men of all ages and for any type of issue.
Best Eye Cream For Men In Their 20's
Neutrogena Hydro Boost Hydrating Gel Eye Cream
All-night ragers, workplace stress, relationship drama—it all can show up on your face. Tired skin is usually dehydrated, which shows up as bags and dark circles. In your twenties, it's important to keep the skin around your eyes well-hydrated. It could mean you look like you got 9 hours of sleep when you actually got three.
Best Eye Cream for Sensitive Skin
Burt's Bees Sensitive Eye Cream
The thin skin around your eyes could be especially sensitive, so if you have sensitive skin on the rest of your face, opt for a formula with minimal additives that could irritate your eyes. This cream contains rice extracts and aloe, which are shown to minimize redness and irritation, but still moisturize.
Best Eye Cream for Puffiness
Kiehl's Eye Fuel Cream
Just like your morning cup o' Joe, this easy-to-apply gel contains caffeine to wake up your peepers after a long night. It quickly de-puffs the under-eye area to make them look more alert and uses the power of Vitamin B3 to reduce dark circles. Use the eye gel after a sleepless night or long flight to easily reset your face.
Drunk Elephant Shaba Complex Firming Eye Serum
This all-around eye cream combats almost everything you could want from any eye product: dehydration, bags, fine lines, and wrinkles. Where it really shines is the lightweight formula that sinks in to your skin quickly, without feeling greasy. Put it on day and night to keep eyes looking fresh no matter what your issue is.
Best Eye Cream for Men in Their 30s
Dr. Dennis Gross Skincare Ferulic + Retinol Serum Triple Correction Eye Serum
In your thirties, collagen production in your skin begins to slow; it's no coincidence that's when lots of guys start noticing the first signs of aging around their eyes. The best defense is a good offense. This gel contains antioxidants (from the ferulic acid) to help slow signs of aging and retinol to help keep skin strong and healthy.
Dr. Loretta Tightening Eye Gel
Rich in both hyaluronic acid and antioxidants, this lightweight eye gel is an ideal daily eye cream to improve the look of your eye area quickly. But where it really shines is its tightening effect, which is tailor-made to improve under eye bags by make the skin around your eyes appear more taught and smooth.
Garnier SkinActive Ultra-Lift Anti-Wrinkle Eye Cream with Pro-Retinol
Anti-aging eye creams can sometimes run into the hundreds of dollars, but this one contains proven ingredients (retinol, peptides, caffeine, and antioxidants) for a fraction of the price. While it's perfectly suited for signs of aging, it's never too early to start using a cream like this to keep issues at bay before they even show up.
Murad Retinol Youth Renewal Eye Serum
Retinol is an important ingredient, but it can be irritating if you have sensitive skin or haven't used it before. This creamy gel serum contains retinol, but is less likely to cause irritation. It's perfect for retinol first-timers and established pros alike and helps smooth signs of aging fast.
Best Eye Cream for Men in Their 40s
BeautyStat Universal C Eye Perfector
This powerful eye cream is ideal to address a variety of issues from bags to wrinkles, but it's especially good if your problem is dark circles. It's high in vitamin C, an antioxidant that will brighten dark circles and protect against future damage, but still gentle enough to use around the sensitive eye area. It's both dermatologist and ophthalmologist approved.
Olay Regenerist Retinol 24 Night Eye Cream, 0.5oz + Whip Travel Size Face Moisturizer
When it comes to eye cream, the last thing you want is something that makes your eyes feel heavy and greasy. This rich cream is surprisingly lightweight and sinks in quickly with hardly any residue. Plus, it's fragrance-free to minimize potential irritation on the sensitive eye area and it still contains retinol to help with anti-aging.
Best Natural Eye Cream
Tata Harper Restorative Anti-Aging Eye Cream
Cynics say natural products lack in efficacy, but this potent cream contains a host of botanical-derived peptides that help strengthen the delicate skin around the eyes and slow signs of aging. It's a splurge, but if you're looking for a natural cream that actually works, it's your best bet.
Clarins Super Restorative Total Eye Concentrate
Just a little of this rich-yet-lightweight cream goes a long way. It's specifically designed to target wrinkles all over your eye area, even the deeper ones. It's also incredibly hydrating and helps not only improve the look of dark circles and under eye bags, but helps protect the skin as well, thanks to an anti-pollution complex in the formula.
Skinceuticals Physical Eye UV Defense SPF 50
Sun damage is one of the biggest causes of skin aging, but eye creams don't typically have UV protection built-in (you should be wearing sunscreen every day regardless). If you tend to miss your eye area when you apply sunscreen or worry that you're not getting enough protection, this mineral sunscreen is specially formulated for the sensitive eye area. 
Best Eye Cream for Men in Their 50s
Dr. Brandt Needles No More No More Baggage Eye De-Puffing Gel
It's hard to reverse changes to your eye area once you've already seen them start happening, unless of course you use this eye cream. It not only reduces puffiness and the appearance of bags almost immediately, but the more you use it, the more signs of aging like fine lines and wrinkles diminish.
Epi.Logic Eye Contact 360 Night Repair Cream
epilogicskincare.com
$90.00
Slapping on an eye cream in the morning can help address issues you wake up with like puffy bags, but sometimes the best defense is a good offense. This rich eye cream is designed to be used at night, when deeply hydrating and skin-regenerating ingredients—like hyaluronic acid, squalane, and peptides—can really go to work to keep your eye area nourished.
This content is created and maintained by a third party, and imported onto this page to help users provide their email addresses. You may be able to find more information about this and similar content at piano.io
Source link