Health
BDSM Experts Share Their 19 Favorite Kinky Toys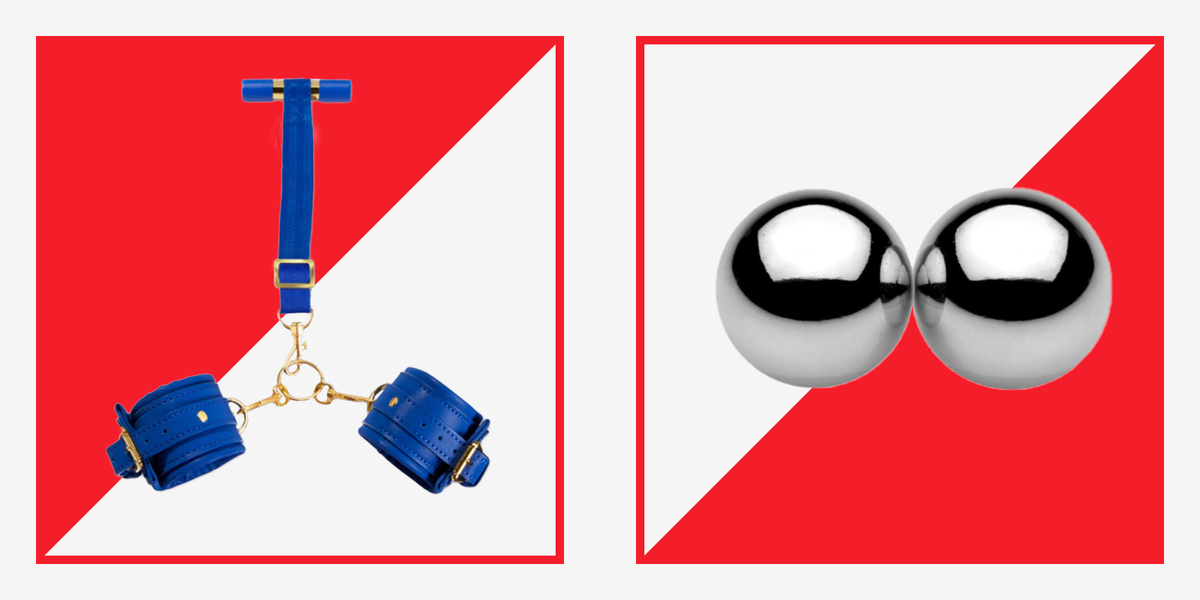 If you're into BDSM, there's an infinite number of ways to incorporate sex toys into your kinky bedroom routine. You can totally use mainstream sex toys, like vibrators, cock rings, and anal plugs. (For example, you can use a vibrator on your partner as you practice orgasm denial.) But then there are toys specifically designed for BDSM (Bondage, Discipline, Sadism, and Masochism), which is what we're here to talk about today.
Folks seeking a more intense or kinky sexual session may want particular toys and devices that help to set a scene involving dominance, submission, bondage, pain, humiliation, and/or role play. Cuffs (for restraining) and floggers (for impact play) are among the more common BDSM sex toys.
With the help of two BDSM and kink experts—Kenneth Play, sex hacker extraordinaire, and Taylor Sparks, erotic educator and founder of Organic Loven—we rounded up a few of our favorites on the list, as well as some more niche products, including anal hooks and magnetic orbs. Some of these sex toys aren't for the faint of heart, but they can be a whole lot of fun if used safely and correctly.
If you're completely new to BDSM, check out our guide to BDSM terms, breath play, and what to know about sexual aftercare. BDSM requires a lot of trust, clear boundary-setting, and safety precautions. Before playing, you should read how to engage in BDSM safely, so both you and your partner(s) have a great time.
Advertisement – Continue Reading Below
1
Magnus Magnetic Orbs
XR Brand
organicloven.com
$12.00
"Unlike traditional nipple or clitoral clamps, these two magnets (small or XL) can be placed anywhere on the body between the flesh!" Sparks says. "Because they are magnets they will continually add pressure as they attempt to 'come together.' How much pressure you can take will be up to you."
2
Dragontail
Dragontailz
organicloven.com
$90.00
"If you have ever enjoyed snapping wet asses with a towel in the gym or at home, this is your upgrade," Sparks says. The dragontail is a leather version of your snapping towel. "It's designed to give the softest sensual strokes on the breast/chest or genitals or an impact that can travel well above 100mph leaving marks that will be enjoyed." 
3
Bit Silicone Gag Bar
Unbound
unboundbabes.com
$38.00
"Many people enjoy the feeling of being gagged but ball-gags can be intimating and too taboo for some," Play says. "This sleek and accessible little 'bit' helps dip a toe into gagging without shame."
4
Faux Leather Silicone Ball Gag
Bondage Boutique
lovehoney.com
$19.99
Or if a traditional ball gag is your speed, we recommend this silicone one. It's inexpensive but still has a high-quality feel. 
5
Spanking For Lovers
Greenery Press
organicloven.com
$15.95
Good spanking is a true art form, Sparks says. "It is not about just pulling your hand all the way back to Georgia and wailing on your partner," she says. "Spanking for Lovers is less about the BDSM part (although also discussed) and more about how to turn this into a sensual art form of foreplay for you both. Learn the anatomy of spanking as in where to hit and not to hit. Discover the many spanking positions, OTK (over the knee), and how to add implements such as paddles and straps."
6
Bondage Cuffs
Orion
unboundbabes.com
$38.00
"This is a well-priced set of bondage cuffs that give you a luxurious feel," Play says. "A good set of leather-like cuffs can elevate your BDSM play with a seamless experience and extra comfort." 
7
Tether Bondage Tap
Unbound
unboundbabes.com
$12.00
"Bondage tape is easy to use and perfect for those new to bondage." Play says. "You can quickly restrain and release your partner. A must-have in any collection, just make sure you always have a set of safety scissors on hand."
8
Deluxe Thick Leather Flogger
DOMINIX
lovehoney.com
$44.99
We can't have a list of BDSM toys without suggesting at least one leather flogger. This one won't break the bank but still will absolutely get the job done. (Remember, it's all in the wrist.)  
9
Tantric Touch Massage Enhancer Kit
Tantric Touch Inc.
organicloven.com
$36.00
"BDSM doesn't always have to painful.  There is the sensual side with just a little pain," Sparks says. "The Tantric Touch kit includes adjustable tantric nails that fit over your fingers to give the lightest touch or a really hard grab or scratch. The included feather can be attached to the tantric nails for a dual sensation all over."
10
Funfetti Rainbow Bondage Rope
Emojibator
emojibator.com
$35.00
"This beautiful rope is a lovely way to celebrate your partner's queerness," Play says. "It's eco-friendly, super soft, and a great introduction to rope bondage that doesn't include an awkward trip to the hardware store. Just make sure you always have a set of safety scissors on hand."
11
Tentacle Textured Glass Dildo
Lovehoney
lovehoney.com
$44.99
This glass dildo in the shape of a tentacle is definitely kinky. If you are your partner is into Hentai, you understand the appeal to this bad boy.
12
Quickie Cuffs
Creative Concepts
organicloven.com
$10.00
"Someone finally designed a pair of handcuffs that are easy to get in and out of but strong enough to stay put during play," Sparks says. "These quickie cuffs come in medium and large and black and red to suit everyone's tastes."
13
Motorbunny Original
Motorbunny
motorbunny.com
$999.00
You can easily turn the Motorbunny into a BDSM sex toy. The dominant partner can control the speed, thrusts, and vibrations with the remote, while the submissive partner (consensually) takes whatever daddy gives… 
14
Leather Locking Bondage Set
XR Brand
organicloven.com
$189.99
"This purple leather set of ankle/wrist cuffs and collar are the ultimate in tie me up, tie me down sets," Sparks says. "With a ring on each item, you can chain your submissive to the bed or hogtie them with rope or a silk sash or lead them astray via the collar. The leather is soft and fits a wide range of people."
15
The Wartenberg Pinwheel
Bondage Boutique
lovehoney.com
$12.99
Some people are very sensitive to the Wartenberg Pinwheel. Lightly running it across your partner's obliques is enough to send them into a frenzy. 
16
Flickering Touch Massage Candle
"This is great for setting the mood and enhancing sensuality," Play says. "You can experiment with temperature play by dripping the hot wax on your partner's body. Then give her a sensual massage as an earned reward or part of aftercare."
17
Daddy's Belt Black Leather Slapper
JT's Stockroom
stockroom.com
$42.00
"Obviously, this has sexy daddy vibes," Play says. "Bend them over your lap for when they've been naughty. "This strap has an easy grip along with a thick strap for thuddy and stingy feelings combined. It's like a belt but always ready for spanking."
18
Take Control Bondage Kit
Lovehoney
lovehoney.com
$99.99
If you want the biggest bang for your buck, then we recommend the Take Control Bondage Kit. It has everything a beginner could need: a strap on dildo, cuffs, ball gag, flogger, eye mask, and more!
19
Anal Hook
DOMINIX
lovehoney.com
$54.99
Anal hooks go inside your anus and then connect to another part of your body with rope. Often, an anal hook is part of a hogtie position, where the sub has their hands tied behind their back and their legs tied up in the air.
This content is created and maintained by a third party, and imported onto this page to help users provide their email addresses. You may be able to find more information about this and similar content at piano.io
Advertisement – Continue Reading Below
Source link